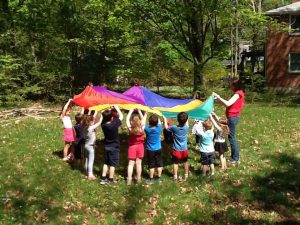 Separation Smoothers to Help You and Your child by Meri Wallace
Degrees of Separation Anxiety
The reaction will vary from child to child, and some youngsters are more sensitive to separations than others, but all children experience a basic sense of loss.  So parents, be prepared.  Here are some age by age guides to what you can expect:
At 1 to 2 years  your toddler may follow you from room to room or insist on coming with you to the bathroom.  That's because she fears that when you are out of sight, she has lost you.
At 3 to 4 years your preschooler is better able to say good-bye, especially if he has experience being cared for by other adults. He has developed a mental image of you, which helps him feel connected to you in your absence. However, your child still worries about whether you will come back to him.  His fear of losing you can cause him genuine panic.  That's why two  months into the school year, your child, who was never upset by separations before, may suddenly attach himself to your coattails.  The honeymoon is over.  He just realized that school is here to stay.
Learning to separate takes time.  And on the road to acquiring this skill, your child's behavior will be erratic.  (On Monday mornings, for instance, your  youngster may need to adjust to going to school all over again.)  In addition, any new separation (changing caregivers), emotional distance (you're preoccupied by a big project at work), or developmental milestone (your toddler is learning to use the toilet) may trigger feelings of separation anxiety.  Achieving a milestone signals to your child that she is getting older and moving farther away from that special closeness she had with you.
But if you accept your child for who he is, move at his pace, and be patient, he will become more comfortable with his growing independence.  If your youngster is particularly sensitive to separations, he may continue to have a strong reaction to them until he entered elementary school.  But sometime between 6 and 10, when he is more focused on school and his friends, your child will be able to explore the world on his own with more ease.
Meanwhile, on your side……
While children are working through their feelings about separating, parents go through a parallel process.  With every step forward your child takes, you feel a bittersweet sense of loss. In fact, it never fails to amaze me how early on this reaction takes place.  new mothers who are weaning their if ants from the great will proclaim, "He no longer needs me!"  Parents of preschoolers have the same feelings when their kids race onto the school bus, barely turning to wave good-bye.
If you are interested in more from Mari Wallace see Lisa for the full article.