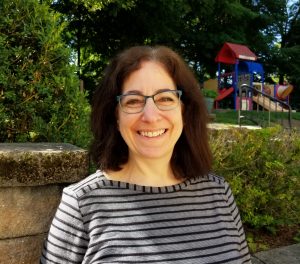 The Hertz Early Learning Center of Temple Israel Sharon is thrilled to welcome Leisa Glass to our staff as the new Director of Early Childhood Education. Leisa, a resident of Sharon, MA, comes to us with more than 25 years of experience working with children.
Leisa comes to Temple Israel with a wealth of experience and glowing recommendations. Her experience, credentials and early childhood development expertise are a great match to foster Hertz Early Learning Center as a warm, nurturing, innovative and exceptional institution for our youngest learners.
Leisa graduated from UMass Boston with a degree in education. When her children were young, she ran her own home daycare for eight years. She then became a preschool teacher, teaching two-year-olds and running the enrichment program at the Striar Hebrew Academy in Sharon for ten years. For the past three years, she was the three year-old lead teacher at the Maimonides ECC. During the past twelve summers, she worked at Camp Grossman, where she ran the Archery program.
Leisa lives in Sharon with her husband Mark and her children—David, just graduating Brandeis; and daughter Shari, just graduating Maimonides School. In her free time she likes to draw, cook, and spend time with her family. She looks forward to meeting you and becoming part of the Temple Israel and Hertz community.
As an experienced educator, Leisa is passionate about helping children discover their world through creative play, experiential learning, and cooperative work. "It is important to me to ignite a love of learning and help each child develop a positive sense of self. In my work, I strive to teach the whole child, challenging and inspiring them intellectually, socially, emotionally, and spiritually. I am looking forward to working in a preschool in which I can collaborate with and learn from others while offering my extensive experience and unique skills."