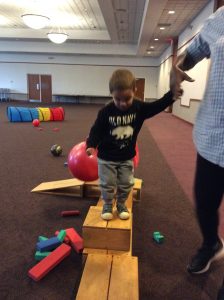 Open to children 21 months and up (must be 2 by the end of December).
In our toddler class we learn through exploration and play. We take a toddlers natural energy, creativity and playfulness and turn them into skills they can use throughout their preschool years.
Cubs are exposed to new experiences and materials such as sitting for circle time or painting with sponges. Teachers lovingly show the way to problem solve and give structure to the classroom while still having fun and sharing exciting moments with their students. These experiences are the building blocks to a successful preschool experience.
 Available 2, 3, 4, or 5 days per week.